KETO//OS NAT Splash produces the most bioavailable ketone salts through the first and only naturally fermented process. Now that's Nutritionally Advanced Technology™.
NO ARTIFICIAL
Colors • Flavors • Sweeteners
INGREDIENTS: KetoNAT™ (R-Beta Hydroxybutyrate) L-Taurine, Fermented L-Leucine, C-Med 100, Erythritol, Citric Acid, Natural Flavor, Rebaudioside A (Stevia Extract), Caffeine (Charged Version), Vitamin B6, Vitamin B12, Vegetable Juice Color, Xanthan Gum, Beta Carotene. All Natural Grapefruit Watermelon Flavor!

HOW TO USE:
Dissolve 1 heaping scoop or OTG pack in 12-16oz. of cold water and shake/stir vigorously. Can be taken with or without food.
Therapeutic dose = 1 daily serving
Optimal performance = 2 servings AM/PM
BETTER BENEFITS
What KETO//OS NAT may do for you:
Utilizing our N8 MAX NAT BLEND featuring C-Med 100, KETO//OS NAT Splash supports healthy cell function, rapidly repairs DNA, boosts immune function, and elevates essential amino acids necessary for optimizing body composition.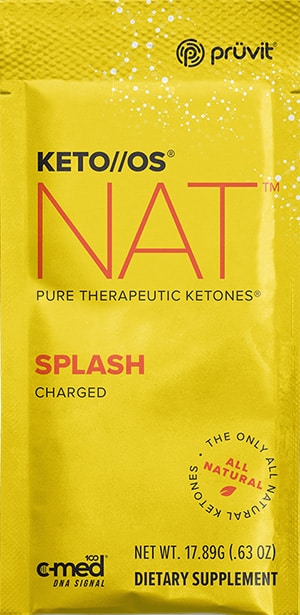 CAUTION: As with any new supplement, consult with your physician before using. If you are using any prescription or over-the-counter medicines, are unaware of your current medical condition, have any pre-existing medical condition(s), have hypersensitivity to salt or have any risk of kidney stones, consult with your physician before using this product. Build up to a full serving slowly to avoid gastro-intestinal discomfort.